A chip expert who worked for Apple for nine years has left the company to join rival Samsung, Business Korea reports.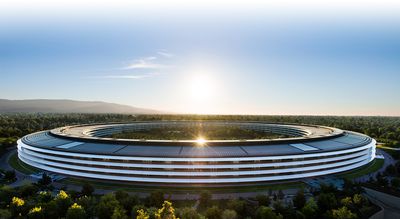 Kim Woo-Pyeong, according to the report, worked for Apple since 2014 after working for Texas Instruments and Qualcomm in prior years. The report is vague on what Kim's responsibilities were at Apple, only saying he was a semiconductor expert.
Apple uses a wide range of chips in its devices, from ultrawideband chip technology to the processors that power all of its devices and a custom-made 5G modem that is reportedly in the works.
At Samsung, Kim will be the company's director for a new packaging solution center. In the last couple of years, Samsung has upped its involvement in the semiconductor space amid increased competition from TSMC, Apple, and others. Samsung announced last month that it had started production of 3nm chips using a new transistor architecture.
Competition between Apple and Samsung remains fierce, with both companies continuing to compete for customers in smartphones, smartwatches, and accessories such as the AirPods and Galaxy Buds. Business Korea calls Samsung's latest hire from Apple "somewhat unusual" given the cooperative yet competitive relationship between the two companies. Despite their rivalry, Samsung and Apple work together, most notably for OLED displays.
Related Stories
Samsung and Oppo Seek to Rival iPhone A-Series Chips With Custom Designs and TSMC Fabrication
Samsung and Oppo are planning to transition to custom silicon chips to rival Apple's A-series chips in the iPhone, according to recent reports. Earlier this year, Chinese smartphone brand Oppo launched its first custom silicon chip, the MariSilicon X image processor, in the Find X5. Now, the company's chip design team is developing an application processor (AP) and an entire custom System on …
Apple Executive Says Samsung Copied the iPhone and Simply 'Put a Bigger Screen Around It'
The Wall Street Journal's Joanna Stern today shared a new documentary about the evolution of the iPhone ahead of the 15th anniversary of the device launching on June 29, 2007. The documentary includes an interview with Apple's marketing chief Greg Joswiak, iPhone co-creator Tony Fadell , and a family of iPhone users. One segment of the interview reflects on Android smartphones gaining larger…
Apple Taps Samsung Display to Supply Micro OLED Panels for Future AR/VR Headsets
Apple has asked Samsung Display to develop micro OLED panels in an effort to diversify its supply ahead of next year's launch of its widely rumored AR/VR glasses, claims a new report. According to The Elec, Samsung Display has received requests from several of its customers to start developing the microdisplays, including Apple, Meta, and its parent company, Samsung. Samsung Display is…
Long-Rumored iPhone 15 Feature May Have Already Failed
Apple's work on a custom 5G modem for the iPhone 15 may have already "failed," according to a recent report from Apple analyst Ming-Chi Kuo. Taking cues from its work on Apple silicon, Apple was rumored to be working on a custom 5G modem to debut in all of the iPhone 15 models in 2023 for over a year. With the aim of moving away from Qualcomm, Apple is believed to have kickstarted the work…
Kuo: Apple's Work on 5G Modem Chip 'Failed,' Qualcomm to Remain Supplier for 2023 iPhones
For the last several years, Apple has been working to develop its own 5G modem chip so that it won't need to rely on Qualcomm as a supplier, but according to Apple analyst Ming-Chi Kuo, Apple's efforts "may have failed." Kuo says that his "latest survey" suggests that development on the chip has stalled, which means Qualcomm would remain the exclusive supplier for 5G chips for the 2023…
Apple Likely to Use Samsung's Tandem OLED Displays for Future iPads and Macs
Samsung has begun developing more advanced OLED panels that should meet Apple's requirements for use in future iPads and Macs, according to a new report from The Elec. Previous reports have suggested Apple intends to release an iPad with an OLED display provided by Samsung in 2024, but Apple is seeking OLED panels for larger displays that have a "two-stack tandem structure," which have two…
Apple Continuing Work on M2 Chip With Help From Samsung
Apple is continuing its work on the upcoming "M2" chip with help from Samsung Electro-Mechanics, ET News reports. Samsung Electro-Mechanics supplies the flip chip ball grid array (FC-BGA), a printed circuit board used to connect the semiconductor chip to the main substrate, for the M1 chip. This detail did not emerge until almost a year after the M1 chip was introduced, when it was uncovered …
Apple Silicon Likely to Benefit as TSMC Aims to Launch 2nm Chips by 2025
Apple chip supplier TSMC will begin production of advanced 2nm chips by 2025, in what is likely to contribute to a key future iteration of Apple silicon, Nikkei Asia reports. TSMC made the announcement at an industry event on Thursday, explaining that its 2nm technology will be based on "nanosheet transistor architecture." Nanosheet architecture is a totally different chip technology from…
Popular Stories
Gurman: Apple Watch 'Pro' to Offer First True Redesign Since Series 4, but No Flat Sides
The upcoming high-end variant of the Apple Watch Series 8 will feature the device's first redesign in years and a new titanium casing, but will not feature the long-rumored squared-off look, according to Bloomberg's Mark Gurman. In the latest edition of his "Power On" newsletter, Gurman said that this year's high-end Apple Watch model will be "a good bit bigger" than the current Apple Watch…
AirPods Pro Now 1,000 Days Old: What to Expect From Next Model
The AirPods Pro launched 1,000 days ago today and are the oldest, current-generation Apple device still on sale. Apple announced the AirPods Pro on Monday, October 28, 2019. The earbuds went on sale immediately and orders started arriving to customers on Thursday, October 31. Apple went on to the AirPods Max in December 2020 and the third-generation AirPods in October 2021. After…
Titanium Apple Watch 'Pro' Could Signal the End of Apple Watch Edition
The larger Apple Watch Series 8 model expected to arrive later this year is rumored to feature a titanium casing, raising questions about the future of the Apple Watch Edition. Yesterday, Bloomberg's Mark Gurman reported that the new, larger Apple Watch model scheduled to launch this year will feature a casing made of "a more durable formulation of titanium to make it extra rugged." Apple …
Video Comparison: M1 MacBook Air vs. M2 MacBook Air
Apple last week launched a redesigned version of the MacBook Air that's equipped with a next-generation M2 chip. If you own the original M1 MacBook Air and have been thinking about upgrading, or if you're simply new to the MacBook Air and are trying to choose between the two machines, we've done a hands-on comparison video pitting the M2 MacBook Air against the prior-generation M1 MacBook Air. …
Apple Continues to Diversify Suppliers Ahead of iPhone 14 Launch
Apple has added to its list of suppliers for the iPhone 14 series in a bid to avoid potential supply chain shortages when mass production of the devices begins, according to analyst Ming-Chi Kuo. In a series of tweets, Kuo said components from SG Micro have passed quality certification for the high-end iPhone 14 models, meaning the Chinese company has been greenlighted to supply components…
Apple Lists Products Eligible for Upcoming Sales Tax Holidays in Nine US States
Apple has detailed which of its products are eligible for upcoming sales tax holidays in select US states, including Arkansas, Florida, Massachusetts, Missouri, New Mexico, South Carolina, Tennessee, Virginia, and West Virginia. Sales tax holidays provide a limited-time opportunity to purchase select Apple products online or in store without paying sales tax. Eligible products and price…
iPhone 14 Pro Rumored to Have 6GB of Faster RAM
The iPhone 14 Pro and iPhone 14 Pro Max will both feature 6GB of RAM and a newer and faster type of memory, according to a report today from DigiTimes. iPhone 14 Pro renders created by Ian Zelbo for Jon Prosser The report claims that the high-end models of the upcoming iPhone lineup will feature 6GB of LPDDR5 RAM, a faster and more efficient type of memory compared to older standards. Current …
.